Have a unique birthday party at Ruunawere Postimõis Hotel
Place to celebrate birthday - Ruunawere Postimõis Hotell
As a party room, we offer a glass gallery that is spacious and can accommodate up to 60 people. The bright and airy hall is warm even in winter.

In addition, there is a large party hall in Ruunawere Postimõisa, which is located on the second floor of the Post Office building. The hall can accommodate up to 55 people (U-shaped table layout).

For smaller groups, the cozy Gentlemen's Room is suitable for up to 12 people behind an oval table.

In summer (but why not also in winter) it is possible to have a party outdoors. The stand-up stand and barbecue area away from the hotel have everything you need for an outdoor party.

Ruunawere has speakers and a mixer. If you wish, we can help you order to live music.
We can accommodate up to 52 guests
There are 3 large suites with a fireplace and a sauna, as well as 12 standard rooms (2-4 beds in a room).
There is also a private Postipoiste house with 1 suite on the ground floor and 2 lounges on the upper floor.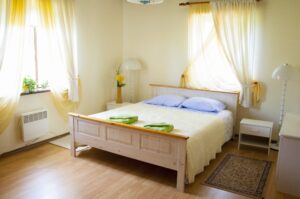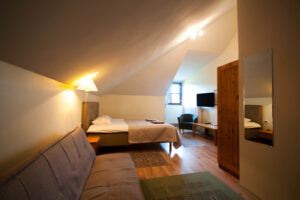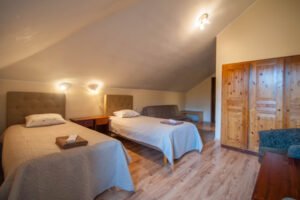 Possibility to enjoy sauna and hot tub.
For the indigenous sauna people, Ruunawere also offers one real Finnish sauna, still with wood heating.
The fireplace room of the sauna house can accommodate up to 20 people and the sauna stage 3 to 4 people at a time.
And just as a real sauna has a hot tub, so do we. Until the frost starts to strike (-10 degrees), a large tree bar is an important part of the sauna party.
Delicious food is prepared in Ruunawere's kitchen.
When it comes to catering, we take your wishes into account. Delicious food is prepared in Ruunawere's kitchen.
At the party table we offer traditional as well as new interesting flavors. We will definitely take into account your special wishes regarding the menu.
It is possible to order a welcome table / champagne table.
Have a special birthday in Ruunawere